A Letter from a young girl to her school asking for permission to attend The Kidz Field
The letter below is the best way we could find to express the world of wonder, awe and educational inspiration that is The Kidz Field
Glastonbury is entwined in my family's history: both my parents have been involved in the festival for many years – even my Grandfather has performed there as a Morris man! I have been visiting Glastonbury since I was three years old and I see visiting Glastonbury festival as a complete learning experience. It might appear difficult to reconcile a visit to the biggest green field festival in the world with the school curriculum but by looking at the festival from an educational perspective it will be clear that there are lots of ways I learn while I'm there, and which help me to have a more rounded view of the wider world. So here I'm going to describe a hidden Glastonbury
Glastonbury as a Classroom
When I get to Glastonbury I will be based in the Kidz Field which is actually one of the biggest children's festivals in Europe. It is seven acres of theatre activities, storytelling, arts activities, team games, old fashioned fairground rides, music workshops, circus displays, circus skills workshops, a massive fantasy castle, an under fives area and thousands of potential friends, all on a beautiful hill!
Now I'm going to describe how I think that I can make my visit to Glastonbury a real and unique chance to learn, looking at each of my subjects in turn.
English:
As it is the world's largest contemporary arts festival there are lots of opportunities to see a wide range of theatre, music and art. I intend to practise my critical writing skills to produce a young persons review of the festival. The Kidz Field in particular has lots of inspiration for creative writing in the story telling tent where I can hear traditional folk tales from around the world. I will write my own creative story in the style of a traditional folk tale.
Maths:
The numbers involved in the festival are really amazing! I will use the figures that they put out on the educational resources on the website to look at the cost of putting on the event per person, how much money they raise for charity per person and problems such as working out the length of the perimeter, the total area covered and how many fence panels that are needed to make it secure.
History:
This year I will learn about the festival's history and the history of the land that it is held on. Glastonbury Festival is held on Worthy Farm in the Vale of Avalon, Somerset. It is steeped in legends from the Dark Ages and many believe that it is the resting place of King Arthur – I will investigate the differences between the history and myths about the land on which the festival is held.
Drama:
The Kidz Field has some of the UK's best touring children's theatre shows and all of them are of a really high standard. I will watch the shows very carefully and try to see how the plays are put together and try to find out what makes them work dramatically. I will note down any patterns that I see in the plots and comment on which ones work the best as part of my critical writing review.
Religious & Philosophy Education:
There are many different 'alternative' cultures and religions at Glastonbury and it is almost impossible to come across these in everyday life in our small Cambridgeshire village. This is a rare opportunity to actually find out for myself about religions that are not normally talked about. I will try find out about different beliefs that I haven't heard about and write about them.
Geography:
The area around Worthy Farm is very interesting geographically. I would like to find out more about how the population and the local economy is affected by the festival so I could see how that happened and when it really began to affect local people and the land around the festival.

Music:
If you only ever saw Glastonbury on TV you might think that it was just a pop music festival. However, there are lots of stages that never get on to the TV, and there are so many different styles of music at Glastonbury. Going to Glastonbury is a fantastic opportunity to see the different types of music and their characteristics. The Kidz Field has a tent where there are free music lessons all day! Last year I had my first guitar lesson and I was given a guitar at the end of the festival because I had learnt so much. I want to go back to show them that I am still practising!!
Languages: People from all over the world come to the festival and although I might not get much chance to practise speaking I will be able to find out about other cultures.
Art/Design Technology: There is a lot of high quality public art scattered over the site. The Kidz Field has a massive Make and Do tent and artists run workshops all day every day. Every year they also make a big carnival sculpture over the whole three days, and I will be able to join in. I will help make the decorations for the Kidz Field, including the kilometre and a half of bunting!
PE: There are a lot of dance shows which I can watch, circus skills workshops to take part in, organised group games to play with the Woodcraft Folk, trampolines to jump on, a flying fox run and most important of all I will be doing lots and lots of walking. I will use a pedometer to see how many steps I take in an average day, which I will then compare against the number of steps that I take in an average day at home.
Food Technology: I will be doing a lot of cooking for myself and for other people so will be gaining experience and confidence by using camping stoves. I will be helping my Mum and Dad plan what food we should take to cook, this will be tricky as we won't have a fridge.
IT: I will not be using a computer but I will be making a film and taking lots of pictures which I will put into a presentation to tell my tutor group about my trip to Glastonbury.
People – I will be one of the most experienced children on the Kidz Field this year and I will be using my people skills to look out for children who need some help. My parents are stewards so if I see any children that I am worried about I can point them out to my parents.
This letter was forwarded to us by a Kidz Field regular. She was asked by her school to explain why she should get time off to attend Glastonbury.
She put her case so well that they gave her the time off.
There has been a lot of attention paid lately to the issue of removing children from school in term time for family holidays. As Glastonbury Festival occurs during the school terms in the UK we thought we should give parents, and kidz, a perspective on the situation in law and the wider cultural and educational benefits of Glastonbury and The Kidz Field in particular. The UK Government has strict guidelines about sbasences during school terms, these are as follows
Holidays in term time
You have to get permission from the head teacher if you want to take your child out of school during term time.
You can only do this if:
you make an application to the head teacher in advance (as a parent the child normally lives with)
there are exceptional circumstances
It's up to the head teacher how many days your child can be away from school if leave is granted.
(Taken from The Government Website)
Education and the Kidz Field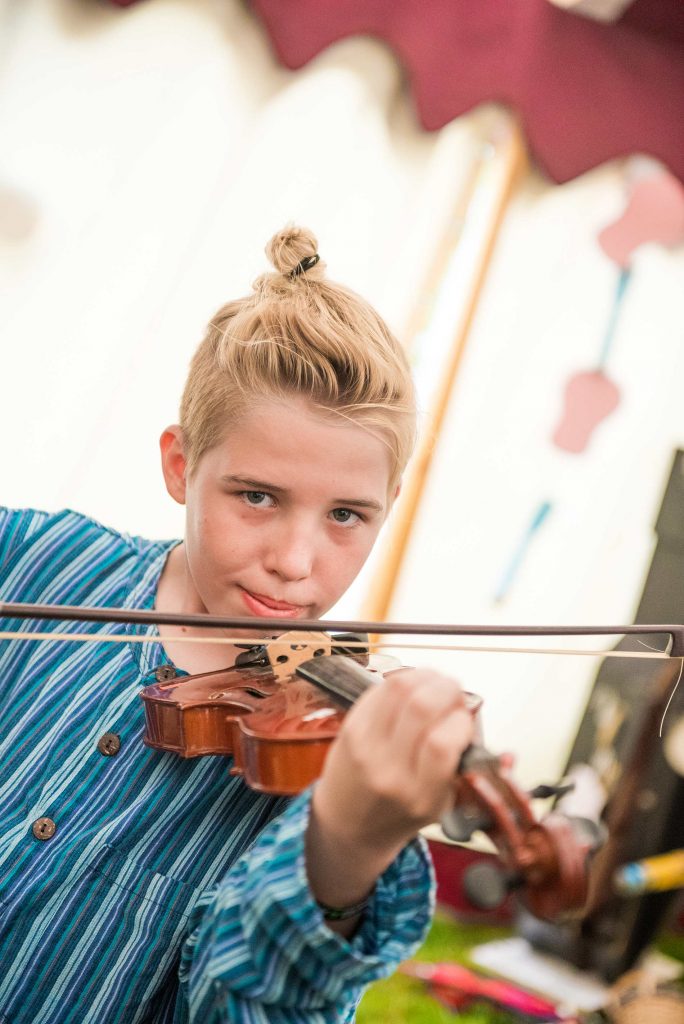 There are so many educational aspects to the Kidz Field. Rainbow Theatre stage performances of Shakespeare plays every year, where the majority of the cast is drawn from Kidz Field kidz. The Woodcraft Elders teach woodland skills and deliver Workshops that cover nature, animals, space, time and other natural and scientific topics. They use play and creativity to teach children about complex subjects in simple, understandable terms. Many of the performers and crew in the Kidz Field are professionals who work in education, child services and other related areas in their day to day lives. They give their time, energy and skills to the Kidz Field because they cherish a life long love of learning, sharing and giving children the best possible guidance on their journey out into the world.
We have several areas where kidz can learn Circus Skills, be given music lessons, which often culminate with instrument giveaways so that they can take their learning on and develop their musical skills after the festival.In our Make and Do Marquee we have countless Arts & Crafts workshops and sessions, delivered by Artists and makers with years of experience and the knowledge and patience to pass their skills on to keen new artists. Many of children return year after year to pick up where they left of and extend their skills and techniques. We offer practical lessons in Carpentry, Mosaicry, puppet making, animation and filmaking. In the Kidz Field we believe that children are the future and that creative play and communal enjoyment are the key elements of inspiring educated young people.